A very popular destination as of now, people flock this beautiful place all year round either to find themselves or to explore its vast jungles. Read further to learn more about the top places to visit in Bali!
Bali is one of the most famous and exciting tourist-friendly islands in entire Indonesia. You can ignite your senses just by visiting here as soon as you get here, the stimulating fragrance of clove oil and incense hands in the dense tropical winds.
If you are planning for Bali holidays, you can spot the petal-strewn offerings and peanuts sizzling at roadside stalls on bustling sidewalks, and the gamelan traditional music jangling off the buzz of mopeds. Despite the chaos and crowd of main Bali tourist spots or regions, Bali is a tranquil island with natural beauty and attractions for all travelers who are thinking of what to see in Bali.
Surfers get here for the iconic swells, cyclists bike along the lush green landscapes bristling with traditional villages and rice paddy fields, and hikers trek through the misty waterfalls and volcanic hills. Another major draw here is the vibrant arts scene and shopping and spa treatments are affordable and must-do in Bali if relaxation is your goal.
Seeing the holy Hindu temples and ceremonies are the best things to do and spiritually adds another layer of appeal to your Bali trip. Eat, Pray and Love is the spotlights of Bali, and you can stay off the beaten track to experience the charm of old Bali vacation. Therefore, without further wait, here are some of the best places to visit in Bali.
Here's the list of the top places to visit in Bali Indonesia

Ubud
When you are looking for the best places to visit in Bali, Ubud is an absolute package in itself. This place is loaded from nature to culture and beautifully highlights the culture of old Bali tourism through temples, paddy fields, museums, and street dance performances.
When getting here, there are various places to see in Bali, be sure to consider Ubud. You can enjoy the biking when exploring the breathtaking scenes, stroll through the terraced rice fields of Tegallalang, meet the herons flocking at Petulu, explore bamboo mansions, and encounter monkeys at the Monkey Park. When getting here, do not miss the firefly tour and Elephant safari offered by many hotels and the best places in Bali.
Where to stay: Best hotels in Ubud
Another popular place outsideof Indonesia that is equally stunning with the same vibes and all is in Thailand, check it out and read it here – Things to do in Chiang Mai.
Canggu
Canggu is one of the best Bali beaches. It is also the most anticipated resort destination and coastal village roughly located between Tanah Lot and Seminyak. Canggu is known to have a beautiful coastline, which consists of black sandy beaches, which are popular among the surfers from different parts of the world.
The countryside area of Canggu also has serene rice fields. Hence, it is one of the best residential areas for many expatriates for Bali sightseeing. It has also led to the abundance of homes, villas, and full-fledged resorts coupled with five-star facilities and services.
Where to stay: Best hotels in Canggu
Pura Luhur Uluwatu
Located over the plunging cliffs atop one of the best surf areas in Bali, Pura Luhur Uluwatu (Uluwatu Temple) is one of the best places to travel in Bali, thanks to its serene setting in hilltop. Ulu refers to 'tip' or 'end of the land' in Balinese, and 'Watu' refers to 'rock.'
If you are thinking when to visit Bali, it is always advised to visit here during sunset when the sea and the sky glitter in the lights of late afternoon. According to architectural researches, the temple belongs to the megalithic origin, i.e., around the 10th century.
Where to stay: Best hotels in Uluwatu
Kuta
Kuta is a beach sprawled by many travelers as a well-known stretch of sand along the nearest Seminyak and Legian beaches towards the north. You can have a fun day out if you are an entry-level surfer in Kuta. You can soak up the sun or book surf lessons for yourself at the beach and rent surfboats, sun loungers, boogie boards, and umbrella from the vendors on thef sand.
A lot of restaurants and cafes also border the beach. You may head to soft sands of Jimbaran Beach, Sanur, or Nusa Dua for more peaceful experience on the island.
Where to stay: Best hotels in Kuta
Nusa Lembongan
To enter this city, you need to seek permission from an elder if you are getting here in a car. Nusa Lembongan is considered one of the best places to visit in Bali where no traffic and no hawkers are the only rules.
This small island is well known for mushroom-shaped coral reefs and turquoise blue water, located in the southeastern shores. Here, you can go for diving, cruise ride, snorkeling, surfing at Mushroom Bay, discover the secret beach, and visit the seaweed farms. Do not come back without exploring the quietude and boating to Mangrove Park.
Where to stay: Best hotels in Nusa Lembongan
Jimbaran
If you are a beach lover, you can find everything in Jimbaran Beach to have a wonderful Bali trip. It has luxury hotels, beautiful coral reefs, and sun loungers to have the complete experience. It is a range of shimmering land which connects the mainland Bali to the Peninsular Bukit.
This place is very mellow and ideal for soaking in the sun and relaxing. It is both peaceful and tranquil to the visitors. Sit under the vivid green coconut groves and hear the pleasant sound of the ocean. This place is picturesque to watch coral reefs, sunset, and have delightful Bali food.
Where to stay: Best hotels in Jimbaran
Sekumpul Waterfall
Located in the Singaraja region of north Bali, Sekumpul Waterfall is a range of up to 7 waterfalls, and it is one of the most beautiful falls in Bali. To do the trek for 3 to 4 hours, many hikers hire a guide to pass through the serene rice terraces and villages rimmed with durian and rambutan trees and go through the dense tropical lands.
You have to slosh through the river and hike along the slippery slopes, but you will be rewarded with the soothing breeze and swim at the base of falls. It is an ideal retreat for nature lovers to explore the wild side of Bali and is one of the famous Bali tourist places.
If you're interested in chill scenery and be closer to nature, check out our grand post about the top things to do in Pai, in Thailand. You'll like it, too!
Denpasar
Denpasar may not have fame like any other Bali tourist places, which are vibrant like Kuta. The thrilling waves of the south coast of the island hold its unique charm as the paradise of modernity. It has the authentic blend of unique culture and modernity of Bali.
Denpasar is the capital of Bali and also serves as a leading hub that connects several best places to stay in Bali. It also hosts the well-known Bali Arts festival every year. In 1958, it was announced as the Bali Island's capital and replaced Singaraja in the north.
Where to stay: Best hotels in Denpasar
Mount Batur
In the darkness of early morning, there are hundreds of visitors start their trek to climb Mount Batur, which is 1700 meters high up the ground level, to catch the stunning views of sunrise above the mist-shrouded hills as well as the caldera.
This active and holy volcano is located in the Kintamani district of central highlands of Bali and is situated around an hour's drive away from Ubud. You can easily hike along the marked trails, and it takes up to 2 to 3 hours. You can enjoy the picnic breakfast of eggs cooked by steam that comes directly from an active volcano, in guided treks.
Kintamani
Located in the Karangasem Regency, Kintamani houses the Caldera Lake and Mount Batur. Penelokan is the best stopover on the itineraries, which is well known as the scenic stopover.
Mount Batur is still an active volcano, which has erupted up to 24 times since the year 1800 and it reshapes the nearby landscapes every time. Kintamani is the fertile land and the top producer of veggies and fruits in Bali. This highland area located atop 400m above the sea level. Kintamani is also the largest producer of bamboo on the island.
Where to stay: Best hotels in Kintamani
Bali Safari and Marine Park Gianyar
In Bali Safari & Marine Park, you can enjoy the fun day out at one of the largest and most frequented animal theme parks on the island. Opened in 2007, the Bali Safari & Marine Park is stretched over 40 hectares in Gianyar regency and founded by Taman Safari Indonesia.
It houses more than 60 species which roam freely in large enclosures which serve as their habitats. You can ride on a safari bus to spot animals, cuddle baby orangutans, view baby sharks at aquariums, and watch the serene talent shows of elephants.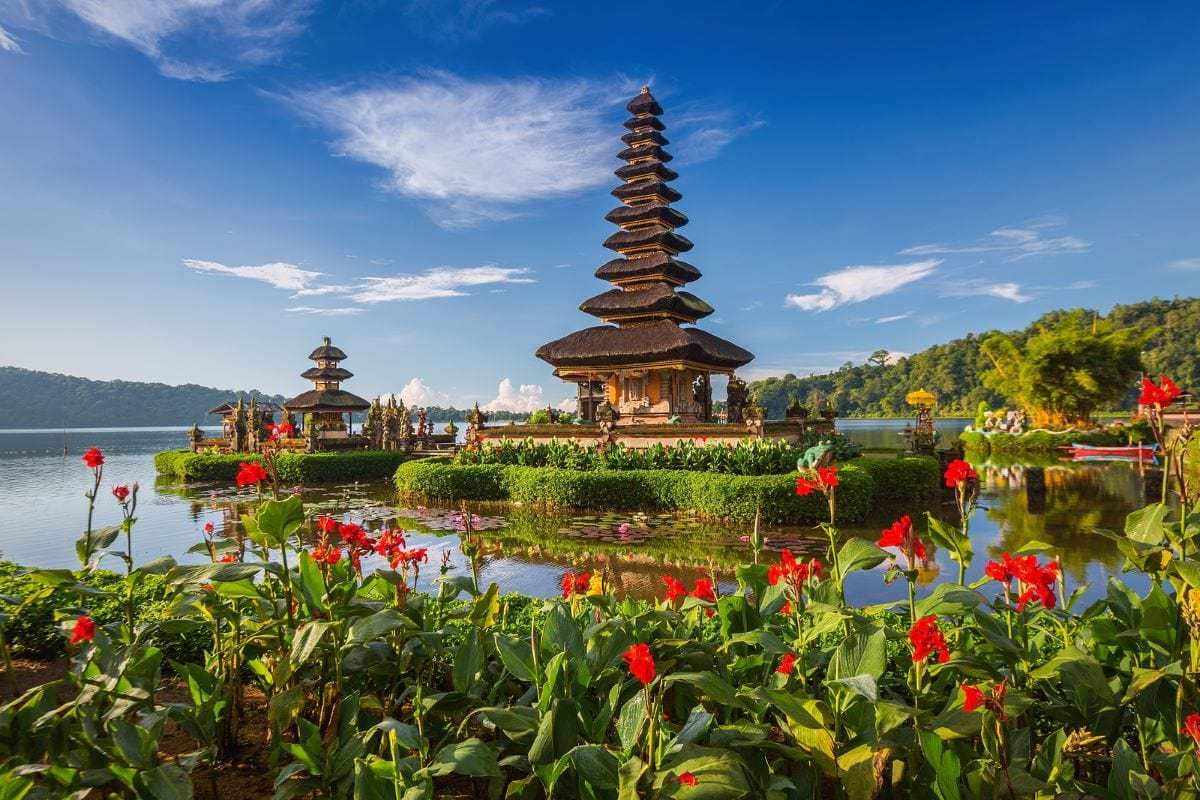 Pura Ulun Danu Bratan
Located along the west of Lake Bratan on a small island, Pura Ulun Danu Bratan is one of the most considered beautiful temples in Bali in the soothing highlands of the heart of Bali. Built-in the 17th century, this historical temple complex set off the serene Gunung Bratan. It is a sacred Hindu temple complex that gives the best views in the soft dawn light.
Tegallalang Rice Terraces
Located around 30 minutes of drive in the north of Ubud, Tegallalang Rice Terraces are some of the most famously picturesque landscapes in Bali where you can absorb the timeless beauty of them.
Keep in mind that locals ask the visitors to pay for donations along the well-known trails through fertile rice paddy fields, and many of them ask for entry fees and parking on the sides of roads. You may visit one of many cafes and restaurants facing the fields to have a relaxing stay.
Seminyak
Bali is well known for its fabulous shopping scene and flamboyant designers, and you can also find the best epitomes of Balinese design on the busy streets here.
You can find some of the modern designer jewelry, fashion, swimwear and surfwear, and homewares at the chic stores and stalls at the busy market. Seminyak Village and Seminyak Square are some of the main shopping malls.
Where to stay: Best hotels in Seminyak
Green Bowl Beach
Bali has a complete range of tranquil beaches, and there is a long list of them. Green Bowl Beach is one of the most peaceful and beautiful beaches in Bali, located in Ungasan, i.e., up to 15 minutes from a nearby town.
It takes hundreds of steps to get here. Therefore, only a few tourists visit it. However, it is still an ideal spot to relax and have fun.
Campuhan Ridge Walk
You may walk through different landscapes on this trek, which is also the spotlight to the central highland of Ubud. It offers the best of Bali hideaway from the busy streets of towns and gives pleasant stay in the beautiful greens.
You can trek on the secret trails and click beautiful pictures of lush greens. It is really like being covered by nature. Visiting Campuhan Ridge Walk is free and is opened every day.
Tirta Empul Temple
Pura Tirta Empul or Tirta Empul Temple dates back to around 960 AD in the tropical greens of Central Bali. You can have a glimpse of a holy purification ritual. It is a national heritage cultural site and split into three different courtyards.
The wide rectangular pool is the center of attraction here and fed by a sacred mountain spring where locals pray and soak in the warm waters gushing from a range of sculpted spouts.
Gunung Payung Beach
Also known as Pantai Gunung Payung locally, the Gunung Payung Beach is one of the secret beaches on the southern coast of Bali. Here, you can also come across a quiet and remote setting across the iconic seascapes.
This location named after a Hindu temple complex, Pura Dhang Kahyangan Gunung Payung, which perched atop the hill where visitors can visit before heading to the beach.
Uluwatu Beach
The Uluwatu Beaches are some of the best beaches in Bali. These are top-rated beaches in the Bukit peninsula of Bali and are well known for the cliff-top temple.
The rugged limestone is the base to several luxury resorts and villas of Bali where you can enjoy facilities on cliffs, overlooking the exotic sunsets and the Indian Ocean.
Where to stay: Best hotels in Uluwatu
Coffee Plantation at Bali Pulina
Located around the well-known rice terraces of central Bali, the Bali Pulina is an idyllic agro-tourism attraction that is highly recommended to visit. You may enjoy your day at the coffee plantation at Bali Pulina. It is a well-known and famous Bali destination to spot the Luwak coffee plantation.
Once you get here, a Bali guide who will guide you through the beautiful tour of the coffee process will greet you. You can also taste the sensational coffee and embrace the feel and aroma of freshly brewed coffee.
Are you on Pinterest? Pin these for later read!