I've been living in Finland for the last decade and though I only lived in Helsinki for a total of five years, I've grown fond of the city's laid-back lifestyle despite its high cost of living. I'll try to provide as much useful information to you guys as I tackle some of my local tips on the things to do in Helsinki for first-time visitors!
Helsinki is better known as the "Daughter of the Baltic" is a young city filled with innovative young creatives who keep on making Helsinki one of the most interesting places to live.
This beautiful city ranks on the top as one of the world's most favorable place to stay due it is almost zero crime rate, peaceful surroundings, equality amongst men and women, great educational system, and of course, the world-renown healthcare system. Of course, all these wonderful things applies to Finland as a country and not just Helsinki.
However, this post (Helsinki travel guide) aims to give visitors a great overview of what to expect and the cool things to do in Helsinki. I'll concentrate on places which the locals would also enjoy going to and not just the main touristic places which every single other blog post already has (but I'll include them in here, as well).
Nonetheless, there are also tons of other places to visit in Finland and quite a few are easily accessible from the capital and can be done on a day trip from Helsinki! There are also different sorts of Helsinki sightseeing tours you can partake to see more of the city in a short amount of time.
→ CLICK HERE FOR MORE FINLAND TRAVEL GUIDES ←
Experiences and top things to do in Helsinki
Go for a relaxing time at Helsinki's oldest public Sauna!
What to do in Helsinki? If you are planning to visit Helsinki or Finland for that matter, then there are plenty of things to do in Helsinki. And I am assuming that you have heard about the importance of sauna in the Finnish culture.
But truly, what is a sauna? Basically, it is a room with a sauna stone (with stones on top) either heated by electricity or wood and you heat the whole room up by throwing water on the hot stone thus creating hot steam.
Sauna claims to have many health benefits and it is one of the foundations that stabilizes the Finnish culture. For instance, a family gathers weekly to enjoy the sauna either in their homes or they gather in their summer cottages whereas they have a sauna by the lake. It is a custom that is well-loved by the Finns which has been carried on throughout history. In fact, in Finland alone you'll find over two million saunas all over the country, that is almost one sauna per three citizens!
This brings us back as to why you should try out sauna if you ever plan a trip to Helsinki. You see, when Finns started moving down south to Helsinki, public sauna became in demand because of the hustleand buzz of the city that keeps its citizens with almost no time to visit their cottages for some sauna time.
Public saunas in Helsinki became the hub for the locals to rejuvenate and keep the custom going. The first one to be opened is located in the Kallio neighborhood and it is called Kotiharju Sauna, it has been in operation since 1928!
If you're interested in trying out this one, here are few other sauna places to visit in Helsinki:
Sompasauna (due to close very soon, so hurry up!), located in Kalastama
Arla Sauna, located in Kallio, as well
Yrjönkatu Swimming Hall, located in the heart of Helsinki center
Löyly Helsinki, located in Hernesaari
Kulttuurisauna, located in Merihaka
Note: These public saunas in Helsinki are located not far from the heart of the city.
→ Where to stay: Best hotels in Helsinki
Enjoy the chill vibes at Kallio neighborhood
If you're keen on doing anything cool and hip, then Kallio is your 'hood. This Helsinki neighborhood is the hub for students, artists, and musicians so you can just tell by that Kallio is indeed the equivalent of the Jewish Quarter of Budapest where all things weird and awesome happen.
For the young locals, Kallio neighborhood is the place to be because all the cool parties happen there and not to mention, cheap-ish rent (Helsinki, in general, is expensive y'all! Rents are never cheap).
However, what is it for travelers and tourists? Well, if you like beer and drinking in a vibrant atmosphere then I suggest bar hopping in Kallio!
If you're not a drinker, don't fret, there are also tons of fusion restaurants to visit and as well parks to hang out. You'll find tons of locals just chilling around during the summer so it is certainly the best time to visit Helsinki to see what the cool kids are up to.
How to get to Kallio? Take tram number 3 and it will take you from the city center to Kallio.
TIP: If you take tram 3, take a round trip with it as it will take you to all hyped neighborhoods in Helsinki (Töölö, Punavuori, Kamppi, and Kallio). The locals call it the scenic tram ride because it literally takes you to all Helsinki points of interest.
→ Where to stay: Best hotels in Helsinki
Feel the local culture vibes at Korjaamo
A total culture hub filled with everything artistic, Korjaamo is for all sorts of people who appreciate culture and arts mixed together. If you're interested in involving yourself in theater, music, and fine arts – Korjaamo is without a doubt something you'll enjoy.
In the summertime, there are numerous free programs you can attend to and you can also visit its galleries that have different exhibitions all-year round. Apart from that, there's also a nice cafe and bar you can check out!
Check what's the jazz over at Teurastamo in Kalasatama
Kalasatama is a great place to visit in Helsinki to start with, it is located beside Sörnäinen and in there you'll find Teurastamo, an old slaughterhouse turned into a conventional cultural hub where you can just either chill out with a pint of beer or eat your way out.
In the summertime, they often have parties in the area and it is notable for its laid-back jazz festival which invites everyone to witness and enjoy.
Apart from that, the growing food culture in Helsinki is strong in Teurastamo so be sure to sample some of the restaurants in the area!
Party at Kaiku and Kuudes Linja for some good music and beers
Located in Kallio neighborhood, Kaiku in Helsinki is an underground club where the cool kids of Helsinki release their inner Danny Zuko and break the dancefloor when the beat hits the right spot. They often play techno music (the good kind) so it really warms up your groove!
Kuudes Linja, on the other hand, has rather similar vibes as Kaiku only they play different sorts of music from electronica to anything you can think of. I think they even played Barbie Girl by Aqua once I was there and it was pretty legit cool.
Top Landmarks and attractions in Helsinki
Sibelius Park and Monument
The Sibelius Park and Monument are established in the memory of the renowned Finnish composer, Johan Julius Christian (or, Jean) Sibelius. Jean Sibelius is widely known to be the best composer ever born in the Finnish territory, as he could express his feelings for the country very touchingly.
He also inspired Finnish independence and their soldiers through his writings. The center of all attraction inside the park is the huge monument; made by the Finnish artist Eila Hiltunen, also entitled, Passio Musicae.
The monument looks like a silver tree which is made of 600 steel pipes. The pipes used in the monument resembles the Finnish forests and the pores are made in order to create whistling music, as the wind blows by. The monument is massive, so you can easily walk around and underneath.
The sculpted head or bust of Jean Sibelius is just beside the monument. A similar monument can also be found at the United Nations headquarter in New York and, also at the UNESCO headquarter in Paris due to its charming elegance.
→ Where to stay: Best hotels in Helsinki
Seurassari Open-air Museum
Seurasaari is said to be the best island part and one of the popular Helsinki attractions not only because they build an amazing exhibition inside where they have collected old wooden buildings from around the country to culturally present how life used to be in Finland back in the days.
You'll see an old church, staple houses, and old barns all made from wood and each represents a certain time in the history of Finland. Apart from all this, there's a picnic area where you can grill and not far from the entrance is a small beach with a sauna which you can also use if you're interested!
Parliament House of Finland
The seat of the Finnish parliament gets a vital position in among the places to see in Helsinki. After the beginning of the constructional works of this Parliament House, it took 5 years to be entirely completed in 1931.
It is one of the top Helsinki tourist attractions that boasts significant architectural design the city is highly proud of as its representation is significant and is one of the best must-see buildings in the city.
The exterior renovation of the Parliament house was finished in the summer of 2017 after almost two years of construction, however, guided tours are still not permitted on the premises but you can still certainly admire its beauty from the outside as it is indeed beautiful as it is highly influenced by the early 20th-century era's Classism designs.
→ Where to stay: Best hotels in Helsinki
Suomenlinna Sea Fortress
Suomenlinna Sea Fortress is a priceless treasure of Finland and surely, among the best Helsinki points of interest. Being built somewhere around the middle of the 1700s, this fortress consists of great history and archaeology of the medieval military and defense of Finland.
The fortress is constructed on an island and accompanied by six nearby islands in the Helsinki neighborhood. It has been declared a UNESCO world heritage site in 1991 and has been on top of the Helsinki attractions for tourists around the world.
Alongside many archaeological specimens, the cannons for naval defense and the walls of the fortress are the interesting things to see inside Suomenlinna.
Take a walk around the area to discover the biggest sea fortress in the world and be more and more amazed as you keep exploring.
Also, make sure to visit the underground tunnel as it is one of the exciting places to see in Suomenlinna!
Nonetheless, if you visit in summer, make sure to bring some snacks with you and have a small picnic break somewhere around the premise while overlooking the Baltic sea.
If you're interested in visiting Suomenlinna Sea Fortress, commuting to this island is relatively easy as the ferries come and go almost every 15 minutes from the Pohjoissatama (North Harbor) and you can easily buy a ticket for 3USD (€2,50), and it is valid for one hour.
Another alternative is to buy a day ticket and a trip to Suomenlinna is also consider a local transport thus you can use the same bus or tram ticket to get to the island.
Related read: Islands in Finland you must visit and explore!
Kiasma Museum of Contemporary Arts
Helsinki's Kiasma Museum of Contemporary Arts is one of the must-visit Helsinki attractions for all. This museum is a part of the Finnish National Gallery along with two other reputed museums of Finland all serving the same purpose – introduce different sorts of arts to the new generation. The exterior design of the museum itself is an example of modernism which is becoming a huge trend in Helsinki!
Designed by the American architect, Steven Holl, Kiasma is an architectural marvel on its own as Kiasma is the leading contemporary art museum in the Nordics. Housing some of the best modern arts of today that express and provoke different emotions to whoever views them – the main aim of this impressive museum.
Useful info about Kiasma:
Opening hours:
Tue 10-17
Wed-Fri 10-20.30
Sat 10-17
Sun 10-17
Address: Mannerheiminaukio 2, 00100, Helsinki, Finland
Phone number: +358 (0)294 500 501
Email: [email protected]
Note: Mondays are closed for visitors and every first Friday of the month, Kiasma's admission is for free.
National Museum of Finland
If you are looking for what to see in Helsinki that will take you back to the stone-ages of even 10,000 years before, make sure you include the National Museum of Finland in your list and be surprised at the sight as you see the bear statue in front of the entrance (sorry-not-sorry for the spoiler!).
At the moment, the new Prehistory Exhibitions include a Russian Imperial Throne, which is currently, the most interesting specimen to see. There is a huge collection of vintage materials that draws tourists from all over the world to this very museum. The Elk's Head of Huittinen is another 8 to 9 thousand years dating sculpture that can be found inside this renowned museum.
This fantastic landmark is one of the must-visit Helsinki attractions not only for what you can learn about each exhibition inside the museum but take some time and have a closer look at the architecture of the building itself – it is a beauty with a classic medieval feel to it.
Post that might interest you: Best cities to visit in Europe for a weekend getaway
Temppeliaukio Church
It is a Lutheran church that has been made by executing a great use of nature. The whole church is surrounded by rocky stone walls and covered by a dome that gets support from parallel pillars that lie diagonally from the edge of the walls with the dome and the gaps between each one hosts the natural sunlight to fall upon the place.
Being established in 1969, the church is also very widely known as the Rock Church. The entrance fee is 3.50USD (€3,00), which will prove out to be much less compared to what it upholds. People often praise the creativity and the extraordinary use of this natural place for a church.
That said, the place has now become a great spot for Helsinki sightseeing for those who are interested in architectural marvels!
→ Where to stay: Best hotels in Helsinki
Finlandia Hall
The marvelous architectural design of one the world-renown Finnish architect, Alvar Alto; Finlandia Hall is a landmark located just in the heart of Helsinki is created in order to host the prime concerts, events, and also the Congress of Finland. The place is available for large and small conferences among the higher executives of the country.
The construction was completed in 1971 and the whole building is colored white with a splendid view of the exterior. This reputed Helsinki landmark consists of 340 seats in the main hall. Some places inside this great hall are designed in a way that natural light falls inside the building; following the piazzas of Italy.
So, people who are looking for things to do in Helsinki must visit this one of the marvelous Helsinki landmarks by enjoying a concert or either by, taking a guided trip to Helsinki's Finlandia Hall.
Note: the Guided tour is available upon reservation and it will cost you about 16USD (€15). You can book it through Finlandia's webpage.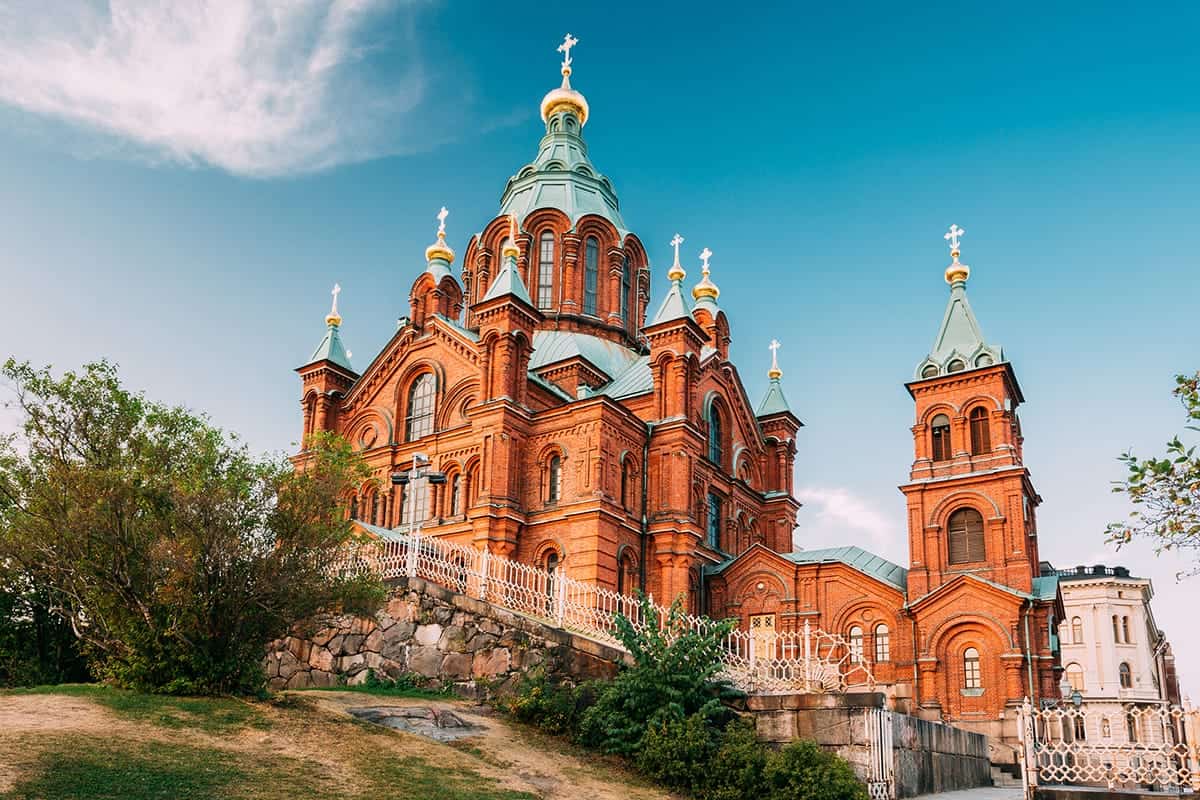 Uspenski Cathedral
Also famously known as the largest Orthodox church in entire Western Europe, Uspenski Cathedral gives a clear Russian scheme; as the Russian architecture, Aleksey Gornostayev had designed the place.
Located in the neighborhood of Katajanokka near the North Harbor (Pohjoissatama), the cathedral is situated upon a hilly area, whereas you'll have a good aerial view of the port and the city. Since it is on a hill, you'll have no trouble finding this church as it is also located rather near to the Senate Square!
Also, there's no entrance fee to enter this church but there is a great chance of finding a gathering of people here as it has recently become one of the most alluring Helsinki attractions among tourists.
Tuomiokirkko (The big white church)
Ah, the big white church. It has a name you know, it is called Tuomiokirkko but most people refer to it as the big white church.
Tuomion Kirkko, or Helsinki Cathedral, is one of the top Helsinki sightseeing spots as it is usually the face of every guidebook you'll find about Finland. It is a Lutheran church and is famous for its astonishing architecture and it certainly takes your breath away once you witness it for yourself.
It is free to go inside the church but I would suggest that you dress appropriately and perhaps don't snap too many photos inside but knock yourself out taking tons of selfies from the outside. Respect, you know, it is a church after all.
Visiting Tuomiokirkko will not take long, so visit this if you're on your way to Suomenlinna as the market square, where the boat departs to the sea fortress, is not far along.
Visit Helsinki Cathedral during the day; from 9 am to 6 pm, exceptions the months of June, July, and August, when it is open until midnight.
→ Where to stay: Best hotels in Helsinki
Ateneum Art Museum
The largest museum of classical arts inside the whole of Finland. It upholds the artworks of even some world's most renowned artists, like Pablo Picasso, and Vincent Van Gogh.
The museum lies in a vast construction that is architectural, very appealing. It includes in the compilation of the tree museums that generates the Finnish National Gallery. Paintings from the 18th century to the 21st century, all are available in the vast exhibition inside her.
This museum being established in 1887, is certainly, amongst the unique places to visit in Helsinki. People who are fond of great artists and paintings must go Helsinki sightseeing for them. You'll be amazed to see this historic and artistic place has a lot to offer for her visitors.
What to eat and restaurants in Helsinki to try
Photo by Adrian Perez| CC 2.0
Have a korvapuusti and coffee at Cafe Regatta
A very small cafe, almost unnoticeable if you passed by it, standing cozily by the lake overlooking the vast nature of Helsinki's Sibelius Park in Taka-Töölö comes Cafe Regatta – famous for its cinnamon buns and laid-back atmosphere, this tiny cafe is certainly one of Helsinki point interest you must not miss!
One tip I could give you is to hit two birds with one stone (not literal) and buy a package of Makkara or Finnish sausage with you and grill it on the open fire they have ate Cafe Regatta which anyone can use as long as you make sure you clean after yourself! This is also one thing to do in Helsinki most locals do themselves (me included).
So, korvapuusti, makkara and coffee and that almost equates to a proper Finnish experience sans the beer and sauna.
Visit Helsinki's beautiful market halls and sample local delicacies
If you're interested in local cuisine and want to taste some of Finland's local delicacies, visiting some of Helsinki's market halls are not only a treat for the eyes because of its marvelous architectural design but also for its wide range of epic dishes and ingredients you can find in some of its stalls.
There are several market halls to visit in Helsinki but the best one I can recommend is Hakaniemen Kauppahalli which is located at the heart of the neighborhood in its market square. In the summertime, there are tons of happening around these market halls and you'll find outdoor stalls selling traditional Finnish summer foods such as fried vendace and salmon soup.
In winter, however, you'll find tons of different seasonal dishes inside the market halls you can sample. That said, the marketplace is not open for long so you must visit during lunchtime at best so you won't miss out on some of the lunch places!
Go for a Hike at Nuuksio National Park – A Day Trip Close to Nature
Besides what to do in Helsinki? Nuuksio national park is one of the Helsinki sightseeing spots is not exactly in Helsinki but in Espoo, a city and municipality just outside of the capital city. If you're keen on hiking and nature, then a day trip from Helsinki to Nuuksio is certainly your kind of thing!
About one hour away from the heart of Helsinki, you'll leave the busy city and enter Nuuksio National Park's splendor as you inhale the freshest air and expect a more relaxed environment in the care of mother nature. Apart from all that, you'll also witness some of the finest Finnish sceneries, forests, lakes, and all that shebang.
If you come in autumn and granted that Finland had a good summer, you're in for a good surprise as wild berries and mushrooms are in full bloom at this time of the year. Just make sure that you don't put anything in your mouth unless you know exactly what wild goodies you have or there's a tour guide to tell you what's good or not. There are poisonous berries and mushrooms in Finland so watch out!
Go for a day trip to Porvoo!
Colorful wooden houses, nature, and history – all the things you'll witness if you visit Porvoo. About one hour away from the city center, you'll find yourself on a day trip from Helsinki to the old medieval town that once existed in Finland.
Porvoo is the second oldest city in the country and is one of the main attractions in Finland you must visit. It served as the trading center back in the days but nowadays it is a functioning city that adapted with modernity while retaining its historical vibes.
If you visit in summer, you'll find all sorts of things to do in Porvoo such as visiting live exhibitions, sampling local handmade crafts, visiting cute cafes, and try out some of its local restaurants.
To travel from Helsinki to Porvoo is fairly easy, there's a bus line that runs frequently all day and you can catch the bus to Porvoo from Kamppi (city center) and it will take you between 50 minutes to 1.5 hours to get there and will cost you between 11.50-17USD for a one-way ticket.
→ Check out these activities in Helsinki
Are you on Pinterest? Pin these for later read!
Christmas? Read this post now or pin it for later read. #helsinki #finland #europe #helsinkitravel #travel #traveldestinations #traveltips #bucketlisttravel #travelideas #travelguide #amazingdestinations #traveltheworld" width="490″ height="800″>