From the rugged Carreg Cannen of Wales to the mysterious Hunyad Castle of Romania, the magnificent medieval castles in Europe are full of mystery and fairy tales of love. These majestic castles in Europe will take you down the memory lane of the ancient European era. Experience yourself being in the period when those castles were built by visiting one of these landmarks in Europe.
Most of these ancient castles in Europe were built as fortified residences of royal families, and most of them sprang up during the medieval period across Europe.
Each of these castles is stepped back in time when some are preserved well as compared to others. Listed here are the best medieval castles in Europe to explore to get the feel of getting back in time.
Top 15 Medieval Castles in Europe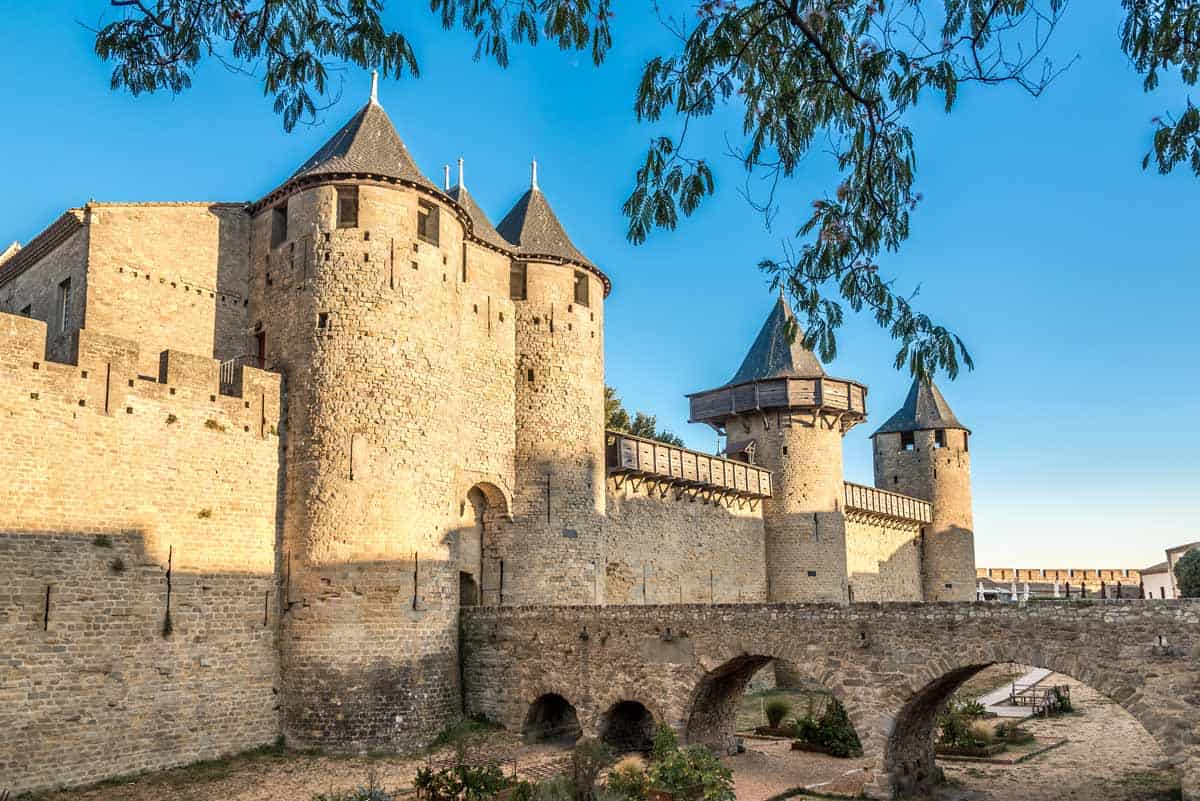 Chateau Comtal, France
Also known as the Count's Castle, the Chateau Comtal is located in a city known for being the most prominent European city, the City of Carcassonne. Its walls are still intact over the test of time.
The entire site of the castle has been restored well and is declared UNESCO World Heritage Site in the year 1987. It is going to be a great tourist attraction, and its description panels are mentioned in both English and French.
If you want to learn about other castles to visit in France, read this post. Also, you can check out the other places to visit in France!
Carreg Cennen Castle, Wales
The Welsh countryside has a lot of castles in each square mile, more than any other part in the world. Carreg Cennen may seem to be a rugged and ruined castle. Since it is located on limestone hill of the Brecon Beacons National Park, Carreg Cennen Castle is one of the most stunning medieval castles in Europe.
You can find its ruins when you get there. It has been in this condition since the year 1462. The summer and spring months, from April to October, are the best months to visit here.
If you're done checking out this beautiful castle and still have time, then also explore some of the stunning islands in Wales!
Alhambra, Spain
Alhambra is partly a fort, partly palace, and partly a World Heritage Site. It is an excellent epitome of some of the best medieval castles in Europe. This historical monument averages over 6000 visitors every day during summer months as a famous and oldest castle in Europe.
So, it is best to get there during the off-season. The central complex of the palace is one of its major highlights, including its well-colored walls, stunning courtyard, and wooden carved ceiling.
After checking out Alhambra, it might interest you also to check out the other castles in other cities in Spain. Also, make sure to check out some of the beautiful places to visit in Spain!
Predjama Castle, Slovenia
Predjama Castle is located at a very bizarre place by a cliff that is over 400 feet high. It has all the quirks of a typical medieval castle.
With the combination of hidden tunnels, dingy dungeons, and a very dark past, Predjama castle is a must-see landmark and one of the famous medieval castles in Europe.
The castle hosts a fantastic medieval tournament on the grounds every July where you can get a great experience.
Related read: Castles in Slovenia and other destinations to visit in Slovenia
Castel Del Monte, Italy
Located in Andria town of Italy, the Castel Del Monte has the combination of both antiquity and elements of northern European Cistercian Gothic and Islamic Orient.
The castle is shaped like an octagon, and each corner has towers. It doesn't have a moat, chapel, and steeples. It was built around the 13th century, and it is considered as World Heritage castle by most historians.
It was intended to be the fortress, and this castle was once a prison.
Read also: Top 15 Beautiful Castles in Italy
Windsor Castle, England, UK
Windsor Castle is among the best ancient castles in Europe. Built in the 11th century, Windsor Castle has the record for being the longest-occupied and oldest castle in Europe. The interior was designed in the Georgian style of the 19th century, and it has an utterly vast and well-preserved castle complex.
These days, it is one of the most famous medieval castles in Europe. Despite its popularity in tourism, Windsor Castle still serves as a home to Queen Elizabeth II during her weekends.
A lot of major renovation projects have been conducted in the palace in recent times. Two water turbines had been installed in 2011 on River Thames to supply hydroelectric power across the estate.
Check out also the other many castles around the UK
Edinburgh Castle, Scotland, the UK
Perched high atop the Edinburgh, the giant fortress of Edinburgh is something you shouldn't miss. Edinburgh Castle is located on Castle Rock and has been in use since the second century. According to the historians, the castle stood the test of time since the 12th century in some form.
Today, it is believed to be one of the spookiest castles in Scotland. A piper vanished in the tunnels mysteriously around a long time ago. Today, his spirit is alleged to haunt there. Whether it has any supernatural being or not, it is true that this castle has been the most attractive tourist destinations in Europe.
It is open to tourists as an educational center and museum.
Hunyad Castle, Romania
Once the prison built by Vlad the Impaler (a Dracula imagined by Bram Stoker), the scary structure of Hunyad Castle hosts the ruins of medieval, Gothic and Renaissance era.
It has colorful roofs, impressive towers, and elaborate stone carvings which genuinely add to its charm. This castle is one of the most exotic and memorable European destinations to get there.
The castle was initially devoted to Voyk Vajik, father of John Hunyadi, by the king of Hungary, Sigismund, as severance in the year 1409.
Interested on visiting other castles in Romania? Read this post learn more about it. Also, make sure to check out the other amazing places in Romania.
Schloss Wartburg, Germany
Wartburg Castle blends well in the wooded landscapes, and it is a perfect castle in different ways. Even though it has a presence in some of the sections of the feudal era, it acquired the form during the reconstitution of the 19th century giving an idea of the existence of this fortress at the height of this seigneurial and military power. Martin Luther has turned the New Testament into German during his exile in this castle.
Perched atop the stunning countryside at the height of over 400m, south of Eisenach in Thuringia, Wartburg Castle evokes a sense of harmony and varied aspect for visitors. It is also one of the most stunning castles in Germany.
This castle is such an appeal to tradition, memory, and pilgrimage. This monument stands well as a testament to the cultural history of Germany.
Bojnice Castle, Slovakia
Once a traditional wooden stronghold, Bojnice Castle has become one of the most beautiful castles in Slovakia. Bojnice Castle was built in the 12th century and was adapted and updated well to match the tastes of several inhabitants, especially Count Janos Ferenc Palffy.
The Castle has been created with inspiration from French castles located in Loire Valley. The interior has been filled with vast collections of antiques, art, and tapestries.
The castle hosts both Renaissance and Gothic tones adding a fairytale look to it. Bojnice Castle is a museum today, and it is a sight of various cultural events.
Loches, France
Loches Castle as developed in the 12th century in Loire Valley. Perched around 500m above Indre River, the vast square-shaped tower is the most fantastic feature of this castle. The castle has become a museum today, and it has one of the best collections of pre-historic armor.
The castle has been gifted by King Charles VII to his mistress, Agnes Sorel and his son later turned it into a prison. The French writer and aristocrat, Henriette-Jule de Murat used it as her hideout in 1702 when she was charged for extreme practices like lesbianism.
During the American Revolution, the castle was also used as a prison where the French kept English captives.
Bodiam Castle, England, the UK
It is undoubtedly one of the most iconic castles in Europe because of its moat, ramparts, gatehouse, and curved towers. The construction of the castle also had a multifaceted plan of landscaping solely to boost its appeal.
Whether it was only built as a place for nobility or to be used in battle, this is still a matter of debate for historians, all because of its pristine look.
Sir Edward Dalyngrigge got permission from King Richard II to develop the castle after giving military service for many years. The structure has been used as a museum complemented with a tearoom and a lot of family-specific events.
Mont Saint Michel, France
Located on the Normandy's island commune, Mont Saint Michel castle was developed on an island for different reasons.
It has been strategically located across the waters so it was even harder to attack and it had been used for the same purposes since time immemorial. The massive walls cover the interior of the castle for added protection.
The castle was the home to a monastery of Saint Michel in the 9th century. It survived the impacts of the 100 Years War, and it never got destroyed.
It is listed among the World Heritage Sites by UNESCO. One of the best features of the castle includes a huge turquoise spire with Saint Michel's golden statue over the top.
More posts about France: Things to do in Paris, Things to do in Nice, and South of France road trip
Hever Castle, England, the UK
One of the stunning castles in Europe is located around 30 miles of London, Hever Castle in Kent is well known for its pristine gardens. It has a winding topiary, a yew maze, and a beautiful lake. In the past, Anne Boleyn lived here in her childhood.
Hever Castle was gifted by Henry VIII (her husband) to his fourth wife after divorce, Anne of Cleves.
The castle also has excellent Tudor portraits, along with a rare picture of King Henry VIII when he was young. The premise has a 5-star B&B, and you can even host a destination wedding over there.
Read also: Top 10 Day Trips from London
Castle of Coca, Spain
Last but not least. Castle of Coca was constructed in the 15th century in the heart of Spain under the rule of royal Castile who had the penchant for it. This luxurious castle was built as a residence.
The castle was not constructed with stone. Instead, bricks were used because of the lack of resources in the nearby areas. It is the main reason behind its reddish look.
Its structure is impressive in its delicacy and enormity. Currently, the Castle of Coca has been used as a school of forestry. Even visitors can access the grounds.
Related reads about Spain: Things to do in Barcelona and Things to do in Mallorca
Are you on Pinterest? Pin this for later read!